ABOUT JOE NEMETH ENGINEERING
I (Joe Nemeth) first became involved in miniature railways back in 1969 when my father built a 10 1/4 inch gauge petrol electric American diesel outline locomotive ,two carriages and 100 yards of track, as part of our fairground attractions, at Severn Beach.
This picture from our family album, taken in 1969 showing me in the drivers seat .this engine is still around but was rebuilt back in the late 70s for John Hall-Craggs. From those early days of miniature railways I was hooked! especially with the seaside miniature railways. My first attempt at steam engine building was at the age of 15, when I completed a Stuart 10H from castings . Soon after I built a 3 1/2 inch gauge Rob Roy and completed it in 12 months!
The next engine was a "Bonds o Euston" road 3 1/2 inch gauge Royal Scot. Other locos I have built include 5 inch gauge super detailed GWR 55XX  2-6-2 tank , 7 1/4 inch 0-4-0 Hunslet , & a 7 1/4 inch  gauge 0-4-2 "Tinkerbell" type named "James". This Loco was built for the Oldown miniature railway and ran for 3 years, the park now sadly closed. I work with my eldest son , Dan who has been working with me since he was 15 years old. He has attained a high level of skill and experience and we work as a team. We have worked on over 60 locomotives including bespoke commissions.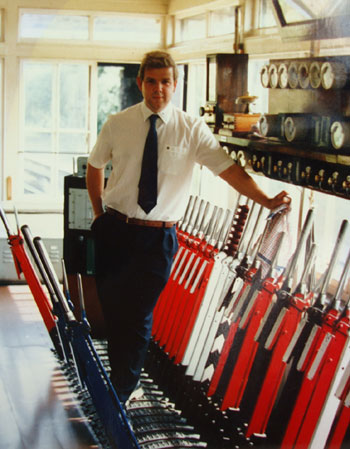 From an early age I developed a love of Signalboxes during a visit to the Bala Lake Railway while on holiday with my parents in the early 1970s. After climbing the steps and peering through the window of LLanuwchllyn signal box  and seeing all those different colored lever with shiny handles and the instruments I was hooked. Sadly the railway was closed on that occasion and I was unable to go inside. Over the years the passion for these lovely places grew and I took an interest in reading and learning as much as I could about Signal boxes and Signalling.
When I left school and had my first motorbike I was able to get to the local boxes and eventually get to go inside one, Over a short time I got to know the signalman as was fortunate enough to be invited to boxes either side . Eventually I was able to visit all 5 boxes and the Signalman seeing my interest and enthusiasm showed me how their boxes worked. I soaked this up like a sponge and soon I was learning the bell signals and being shown how to work the boxes and signal trains. It was magic. I did apply to British Railways Western Region but sadly plans were to rationalize the signalboxes in the area so were not recruiting, this was in the early 1980s:.
After 11 years in the engineering trade I had an opportunity for employment on the railways for a signalmans post, I accepted and started in June 1992. This would mean going to signalling school for 6 weeks at Webb House, Crewe. This was a great experience but very hard as I had to learn all the rules and regulations which I passed with flying colors. I eventually went on to work over 15 different boxes as a relief signalman, I thoroughly enjoyed it.I finished up working on the North and West at Little Mill Jc, Abergavenny , Pontrilas,Tram Inn as well as others.
While still working on the railways I had started a small business from home designing and building miniature railway signals. I named the new business "Scaleway Signal" and although it was very hard work trying to do both occupations as well as being a family man the small business took off. I decided to bite the bullet and leave the railways and go full time…………………..This was 1997, I ran this business for over 10 years, during this time I had constructed and operated 3 miniature railways and several portable lines at country fairs around London.
In 2006 I decided to set up a new company designing, building and restoring large scale miniature railway locomotives and equipment. I took the painful decision to sell Scaleway Signals to another company and concentrate on the new business, Joe Nemeth Engineering.
My right hand man in the business is my son Dan,he has worked with me full time since leaving school at 15! He is a very skilled and competent engineer and nothing deters him from reaching his goal. Here we are on a private line with our 2 foot gauge freelance "Lister" which we named "Dinorwic" Dan designed and built this with limited help from me. He owns and maintains a substantial collection of vintage vehicles and equipment.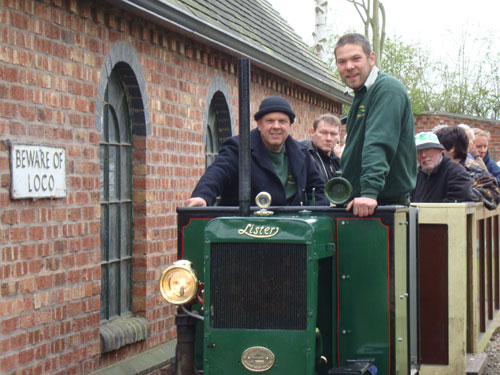 It was back in the 1880s when my Great Grandfather, George Pruett started his fairground business with just a small set of gallopers which were hand operated. He had his showmens living van which was horse drawn and set up at events around the South west. By 1899 he had grown the business sufficiently that he was able to place an order for a massive 4 abreast set of steam gallopers from the famous firm of Savages of Kings Lyn. He also owned a Burrell showmens engines to power the newly invented electric lighting which festooned all fairground rides. By 1945 the Pruett family had owned 13 engines and countless rides and stalls including a huge helter skelter . The fair traveled all over the south west when my Grandfather bought land at the up and coming Severn Beach in the 1920s.
My Grandfather owned a Foden steam lorry pictured below. He kept the business going until the late 1960s when my parents took over, naturally my brother, sister and I were brought up in the showmens way. Although they chose different paths when they left school I was destined to run my own business. I have steam in the blood and so does my eldest son Dan.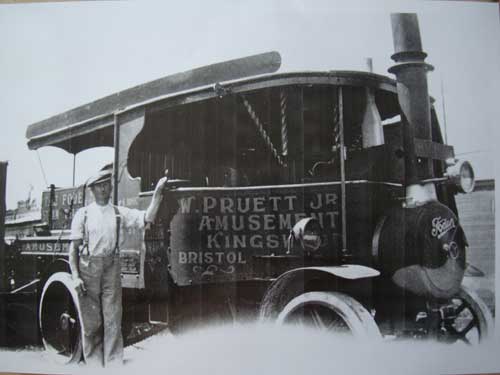 Here is a picture of my late Grandfather with one of the families fairground engines, this was his Foden steam lorry, taken in the 1950s at Severn Beach. The family were a large showmans family started by George Pruett in the 1880s. We owned and operated 13 engines. We have carried on the showman tradition.