Our bespoke rolling stock range of standard and narrow gauge types includes 7 1/4, 10 1/4″, 12 1/4″ 15″ and 2 foot. Guards vans, ballast wagons, low loaders, tankers, LNER brick and Sulphate bogie wagons engineering works wagons, tippers are just some we have built. Let us quote to build your special item of rolling stock.
We will build bespoke wagons from 7 1/4 inch narrow gauge types up to 15 inch from steel ballast wagon to this delightful 10 1/4 inch guards van. This wagon was designed for the purpose of carrying a number of small children on a private line.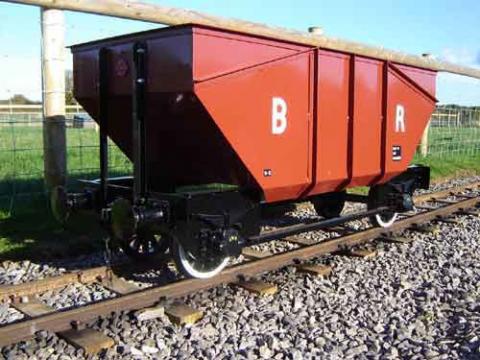 Our proven and well designed robust passenger carriages offer excellent service . We can supply several different styles of bogies from 7 1/4″to 2 Foot gauge braked or un-braked using mechanical, vacuum or air operated systems. We can also supply a comprehensive range of light weight and heavy duty bogies and parts.
These semi scale mainline carriage can be supplied to special order in a range of liveries.
They will accommodate 8 children or 4 adults in comfort. With upholstered seats and opening doors. Vacuum brakes optional.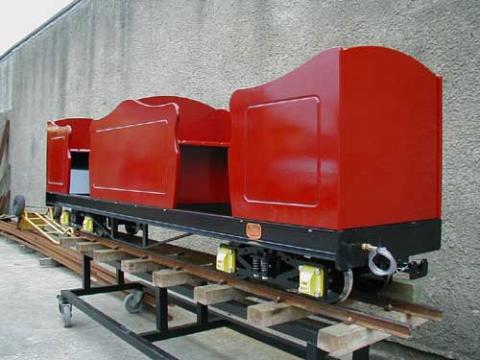 Would you like to have your favorite design of locomotive built especially for you! we offer a bespoke commissions in many gauges and scales. We have already supplied private and commercial lines as well as museums and training facilities. Here is a fine 10 1/4″ gauge model of a Great Western Railway 1400 tank locomotive.
As professional miniature railway locomotive builders we always welcome the challenge of a new build project. Whether it be in 7 1/4 inch; or up to 15 inch gauge we can cope.
Let us turn your life long dream of owning and driving your very own coal fired locomotive into reality. Please feel free to inquire about how we can help you. You may wish to visit our purpose equipped workshops to view various locomotive under construction, re-building or overhaul.
Our specially built workshop is fully equipped to undertake all aspects of engineering and machining for miniature locomotives both steam and diesel types. Our experienced team have a combined experience of more than 40 years, Let us quote for any parts from machining steam cylinders, wheels and axle, steam fittings etc.
In our well equipped workshop we can tackle a wide range of machining operations and fabrication work including design work and pattern making.
From cylinder machining ,wheel turning right through to a full rebuild, With over 30 years experience in the building and restoration of miniature locomotive from 5 inch gauge through to 15 inch gauge we can help you. We have designed and operated 2 commercial lines in 7 1/4 inch and 10 1/4 inch gauge. We specialize in the design and construction of miniature lines from track work right to building signals and associated equipment including installation. Over the years we have designed and constructed over 100 items of rolling stock and carriages in various gauges up to 2 foot gauge. Whatever your requirements please contact us to discuss your requirements.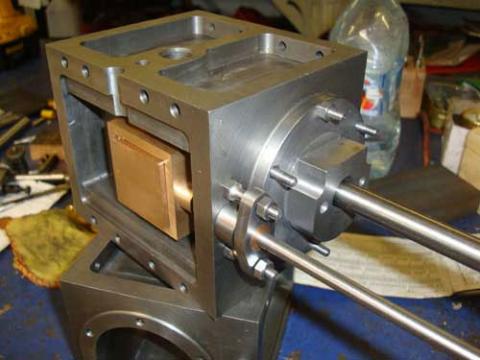 This section is under development but will include all the various patterns in our store from which we can supply castings from in Steel, S G Iron, Cast iron, Aluminium, Bronze and Brass. We have a time served pattern-maker in the team who can design and construct patterns in both wood or resin.
Please inquire about this service.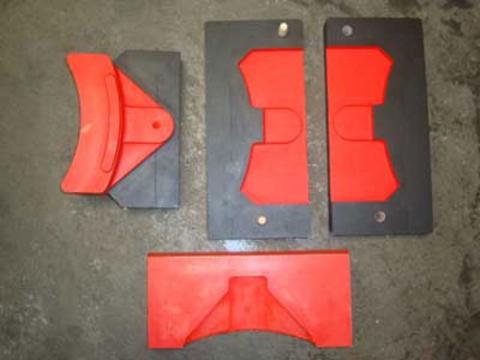 Here we show the diverse range of boiler steam fittings we produce for use on locomotives, traction engines, steam boats and portable engines. We have been re-producing a "Heritage Range" of fittings to enable completion of restoration projects. Our range is being developed constantly and the latest are De-Wintion cylinder oilers.
In this section we deal with the many bespoke steam fittings we make for locomotives in the works or for customers own projects.
We also undertake a wide range of steam fittings manufacture from models size right up to full size for locomotives, traction engines, steam rollers, stationary and portable steam plants..
listed are some of the many bespoke fittings we can manufacture;
Boiler check/clack valves
Inline oil check valves
Safety valves ball or stainless steel turned valve types.
Boiler blowdown valves.
Fusible plugs.
Steam turrets
Steam whistles to any design.
Combined Blastpipe blower assembly.
Boiler hand feed pumps.
Axle driven boiler feed pumps.
De-Winton cylinder oilers
STEAM FITTINGS RE-FURBISHMENT
We also offer a steam fittings Re-furbishment service from model to full size equipment. We have carried out a wide range of projects on 2 foot gauge locomotives and full size traction engines and steam rollers. Please enquire to see if we can help you.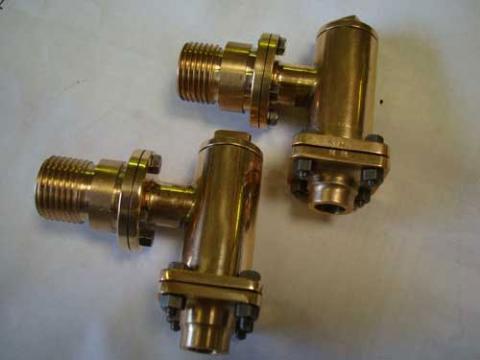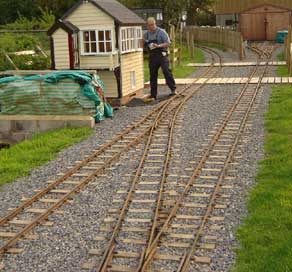 Explore the wide range of bespoke track work we can produce, a full design and consultation service is available which covers site surveys to track laying. Rail can be supplied in both steel and aluminium in a range of weights and sizes, track fixings. We supply sleepers in recycled plastic or pressure creosoted timber.
Over the years we have produced over 60 sets of turnouts from 5 inch gauge to 10 1/4 inch gauge. we have constructed left hand and right hand versions including curved turnouts in various weights of rail. View above shows the passing loop on our 10 1/4 inch gauge "Berkley Light Railway" near Sharpness, Gloucestershire. This line operated a variety of steam motive power including two GWR 47XX 2-8-0s.
We are always happy to visit your site on a consultation basis to carry out a complete survey, design, manufacture and installation service. We can supply a variety of rail in different weights and pressure treated timber sleepers in any size. We can also supply track fixings, fish plates, bolts etc.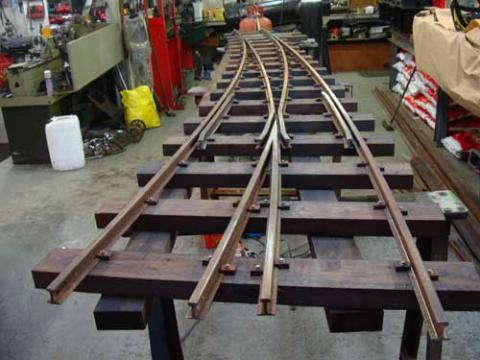 Joe has been collecting Railwayana for nearly 40 years specialising in signalling related items. He spent 7 years as a Signalman with British Railways working traditional manual lever signal boxes before moving on to modern power boxes.
As a fully qualified engineer and a specialist in building and restoring all steam related railwayana and engines Joe is extremely passionate and always ensures top quality advice and restoration work on all our products.
We always have a large varied range of railwayana and collectibles in stock and acquire new items frequently. We are always happy to hear from fellow collectors who seek additional items for their collections.
Dont forget we also buy, sell and part-exchange all railwayana including signalling equipment, cast iron and enamel signs, lamps, transport memorabilia, vintage model railways and toys, please contact us with any items you may want to sell or acquire.
We strive to attend many of the toy and collectors fairs and the railwayana events throughout the year, so please look out for us and we hope to see you soon.