As a teenager I remember building the Airfix Matador refueling tanker and since then have always had a soft spot for them. Having been around the rally circuits for many years with many different vehicles from a Fordson " tractor, Aveling and Porter steam roller I decided I would like a change and after seeing a project one on ebay I decided I would try and buy it to restore. Well I did buy it but it was in a poor state with many parts missing, coupled with it spending its remaining life being used for many years as a timber tractor after its army life it was not idea for my needs. So I sold it. I have owned several to date and learnt how to drive them ………………… I started to search for a Army gun tractor. I like this type the best and eventually this one became available for sale. It was lovingly restored by Mike Gilbert who owned her for many years. Although not quite what I wanted she was perfect for a full restoration back to it's original specification as ordered in 1939. Here is a brief history of her life in the British Army .
Number 250 was built in April 1940 under army contract number V3501, of August 1939 number 250 was built in the first batch after the initial prototype had completed trials. The contract was initially for 425 chassis's but later upgraded to 623, fitted with AEC's 7.7litre diesel engine rated at 95 horsepower. 17 Matadors were fitted with petrol engines. These gun tractors hauled either the 3.7 inch or 5.5 inch gun, and carried a gun crew of nine.
The Matador chassis's were guaranteed for 2 years! Although ordered in 1939 number 250 was delivered to the British Army on 17th April 1940. In 1940 it carried war time registration number H 1746880. Serving with the British Army for 27 years until it was struck off the military census at Ashchurch on 21st December 1967.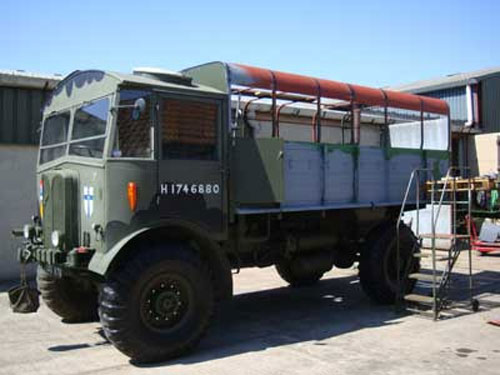 Here is O853250 when we went to speak to its owner Mike Gilbert about acquiring her. Mike restored her some years ago and has rallied her for many years. We were able to agree a deal and spent much of 2011 taking her to rallies .At the end of last years rally season we commenced further restoration work to put her back as a gun tractor. Firstly the canvas and hoop sticks were removed as these were modified from a Bedford MK lorry. After looking at the many photographs we have in our archive a schedule of work was drawn up. After contacting many other Matador owners trying to track down some of the iron work for the new roof we drew a blank. We approached several firms which specialize in cold forming of channel, but nobody could help us. We decided to have a go making tooling of our own design, this was a great success. We were able to form and press all the hoop sticks and we have since fitted them.
Well after a long wet winter my Matador is nearly finished. Externally she is complete apart from the crew seats in the rear body and a bit more electrics and details. But now its time to play……………….. This years rally season has been poor due to the bad weather conditions resulting in many shows being cancelled. However we have now attended three shows and have 3 more before the end of the season. Below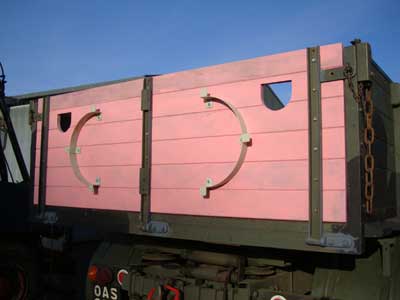 After removing all the canvas ,hoops and fittings along with other parts I decided to start with the building of a new tail board. last winter I spent many hours visiting and recordings details of all Matador rear body parts to produce drawings. The tail board is built from 1 1/4″ Mahogany, all the steel fittings were produced by me in my workshop.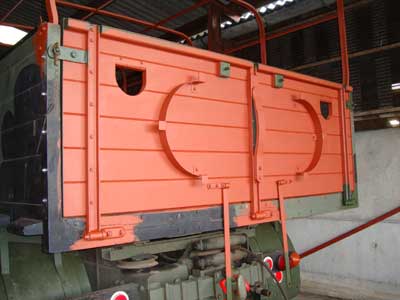 Finished and in undercoat.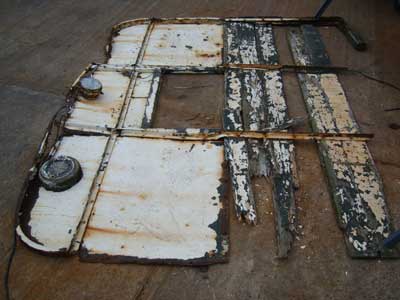 I discovered that there is at least two different designs of bulkhead fitted. My Mat is an earlier one with only one crew door fitted on the near side. I was lucky to obtain an early type although rotted from Dave Shopland. This was carefully measured and drawings produced.
Here we see the steelwork being set up and welded. We produced tooling and formed all the hoop sticks from channel section.
Finished and my wife, Caroline is busy painting prior to its fitting. Caroline has been very helpful throughout the project.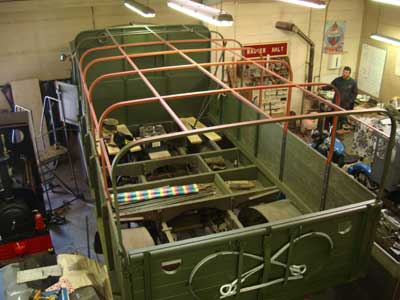 In the works and the bulkhead fitted. She only just fitted in………………..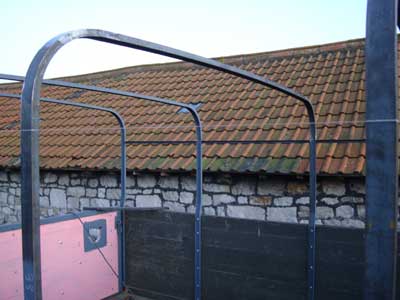 Showing the tedious fitting up of the hoops. Two steel wires were set up between the rear and front hoops to ensure all the others were in alignment.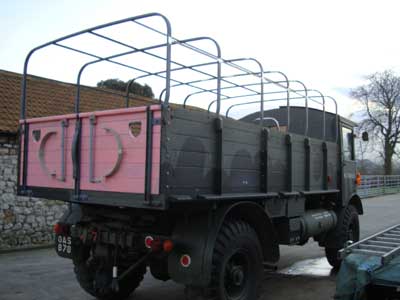 The job finished on a freezing cold winters morning. The next job is to prime the paint all the hoops before fitting the roof skins.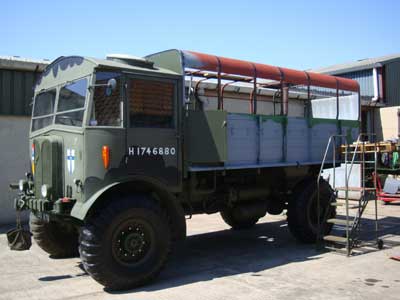 On a red hot July summers day we are fitting the roof skins. We pre-rolled the skins first the sprayed them with red oxide primer. It took all day to fit and seal these and prime. She's taking shape now…………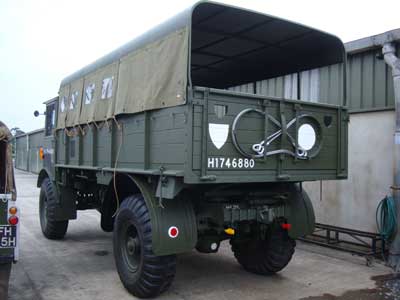 After studying many photos from WWII I was able to produce detailed drawings and after much help from Martin Hammond of Allied Forces. Martin produced all the canvas needed for the entire vehicle. I started the sign writing and painting of its military markings.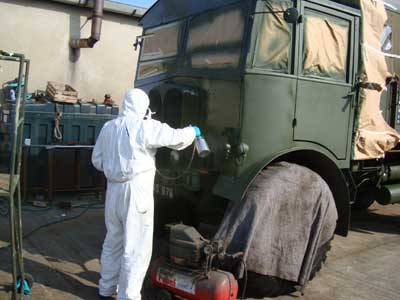 Me all dressed up and breathing apparatus on a holt sultry day spraying . Over 3 gallons of olive drab paint were used.
The back end looks very busy with all the sign writing finished.
This part on the fuel took hours. I studied photos to re-produce the correct war time style.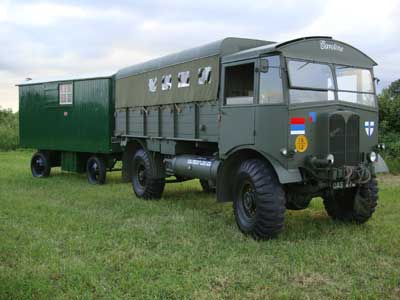 At the first rally, Tortworth in Gloucestershire on the last weekend of July. With a 1910 Bomford and Evershed steam roller living van.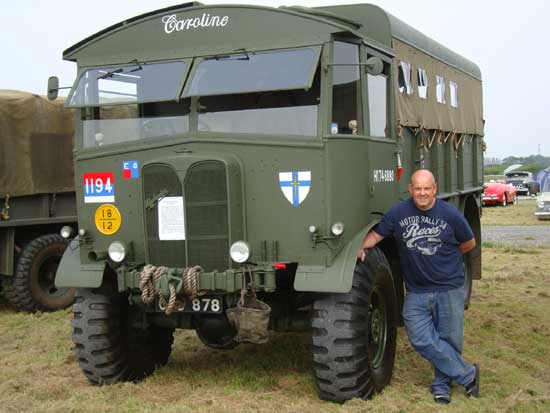 Me posing at the Summer Classics show at washingpool Farm in August. I decided to name my Matador after my lovely wife Caroline, who helped me through out the restoration. My wife was delighted when she saw it for the first time as she had no idea that I would name her. In October we set off for our biggest rally event ever. We will be attending the North Yorkshire Moors Railway "War Weekend" in October 12,13 and 14th. We will be setting up our vintage "Road Up" display at Goathland station. The journey is around 600