BUILDING MY 16MM "LLANIOG LIGHT RAILWAY"
For many years now I have been interested in constructing an out door 16mm to the foot line. The railway would have to be steam operated and feature many of the buildings, line side features, rolling stock and locomotives of the slate railways of North Wales. I would like to have a taste of the Welsh Highland line and not the forget of course the Lynton and Barnstaple railway. For some time now I have been acquiring track, stock and some locos. In 2012 my wife and I saw a house in our village which came on to the market and after viewing fell in love with it…….and bought it! Although the house and garden required much work to get it how we wanted it the garden was a blank canvas. I decided I wanted to have the railway elevated for ease of operation so I designed and constructed a Railway sleeper raised garden.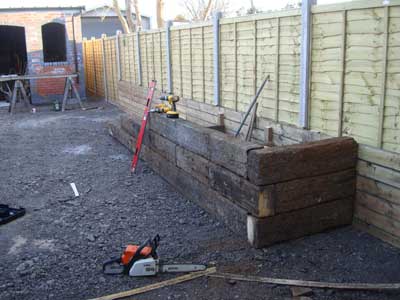 Well here is the start if it, the sleeper built planter. As this garden is a new design and required all the old soil ect to be removed I hire a digger and driver to come in a remove the first 6″ of grass and earth to prepare a new base. After removing the old rotted fence I put up a using cast concrete posts. Once all the soil and rubble had been taken away we added 6″ to 8″ of hardcore , this was then compacted. This has produced a solid base and excellent drainage. I estimated 30 sleepers would be needed to construct the planter and lots of bracing material and hundreds or 6″ and 8″ coach screws. My trustee chain saw made light work of the sleepers but much re-sharpening was needed due to stones embedded in the wood. Here we see the first few sleepers being bolted together.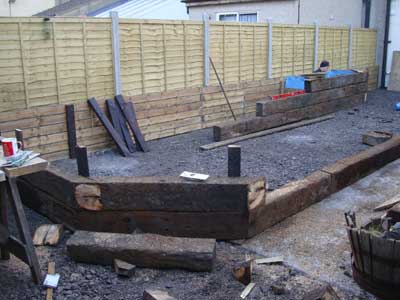 The finished planter would be in the form of an odd legged "U" as this is to serve as a raised flower bed too. Its coming together nicely!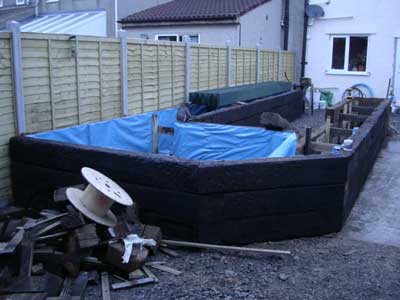 The outside is being creosoted and the inside faces covered in DPC held in place by staples . Eventually the soil would do the job.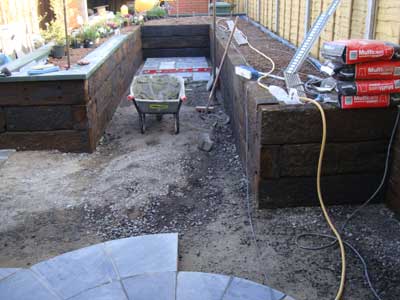 This view shows the planters nearing completion. 12″ of drainage stone was placed in the bottom then 10 Tons of top soil to fill them, Phew that was hot sweaty work. At the same time I was laying 20mm thick slate tiles, These were bedded on a base of sandy cement as I did not want any sinking of the slates when finished.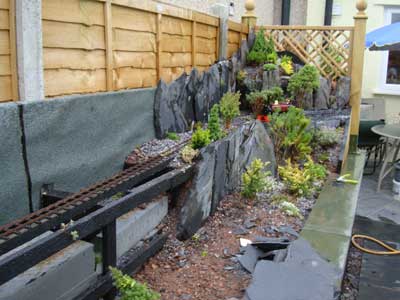 Now this was my first attempt at building an out side garden railway so I have tried a number of techniques after reading up and speaking to friends in the 16mm group. These picture were taken earlier summer of 2013 . Much more work has been done to date and lots of planting.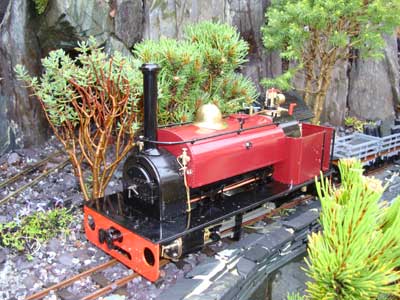 A nice view of a Quarry Hunslet leaving quarry sidings with a load of slate slabs.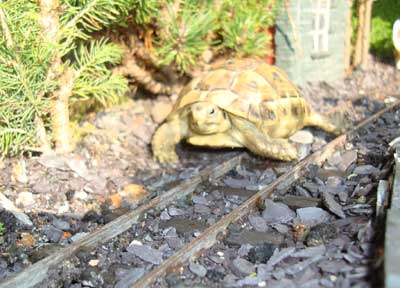 Here is our pet Tortoise Jermima carrying out line side checks prior to the days running………..Building a garden is a very satisfying pastime, you get do do ever aspect of the railway. From building the track frame work and all the hard landscaping to the part that makes it a real railway, the scenery and planting. Garden railways are living and go though all the seasons just like a normal garden. Here we see how realistic ballasting and vegetation is to bring all alive.
In the view we can see Glaslyn tunnel in the distance and the well ballasted track and line side fauna. You almost feel you can walk along the track watching out for the next train taking slate from the quarry of to the sea port several miles away! I have always been interested in plants and many years ago studied the art of Bonsia, I learned how to style and care for these beautiful little trees. Selecting the right sort of plants is essential for the right look on the line. As my line is based on Welsh railways with Lynton and Barnstaple too I have been careful choosing the suitable plants.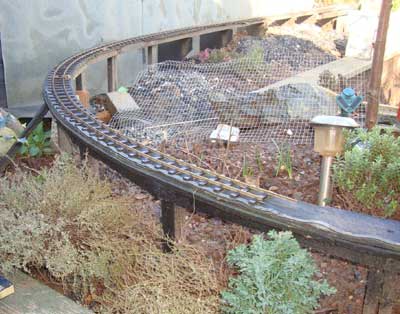 This view shows how I have built the track base. Now this area is where the slate quarry and working are to be I have been planning this in my head for months now and will start work soon!.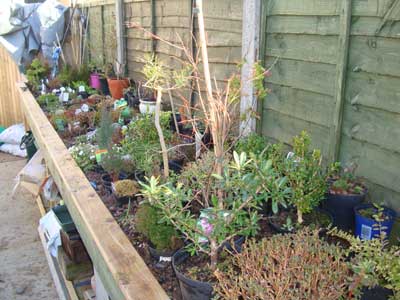 here is my garden railway nursery which has well over 100 plants, this will not be nearly enough! Every time I go near a garden center I cannot resist going in and always end up bringing something back. I also like to propagate my own from cuttings or by dividing depending on the variety.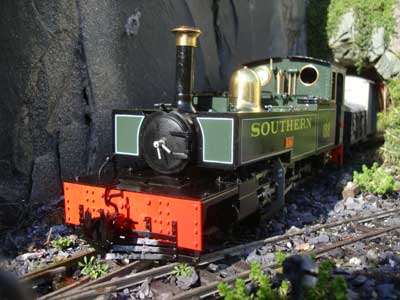 Lynton & Barnstaple "Lew" emerges from Glaslyn tunnel on it maiden run, and she runs like a watch! The other L & B loco is "Lyn" another superb runner..
The latest addition to the locomotive roster is Arne Jung, No 3175 of 1921. Many years ago I had the pleasure of owning and restoring the 2 foot gauge version of this. Here she has been lovingly recreated using a Roundhouse "Billy" as a basis. She stands on the steaming bay waiting for the off I named "Caroline" after my lovely wife, always a wise move eh fellow modelers! My wife loved it and today she had great fun driving her back and fourth. I have spent hours swapping roundhead screws for scale hexagon headed bolts and adding weathering to make her look more realistic.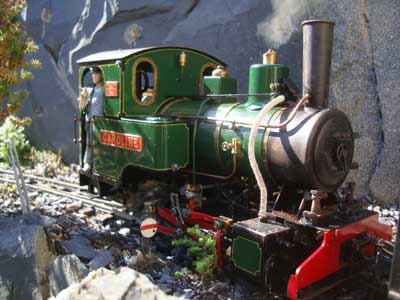 Here "Caroline" basks in the sun while have a break from shunting at Quarry sidings. A wisp of steam at here safety valve as her fireman builds up the fire ready for departure.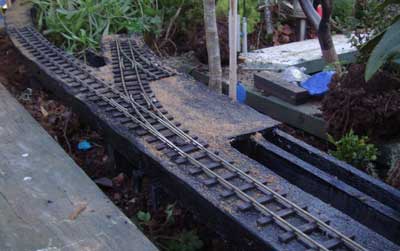 The latest part of the track base is Pinesway junction. here the 2 circuits with run into the station before joining back into a single line which will allow continuous running. With careful planning I hope to be able to have up to 5 locos in steam, some in loop and sidings shunting and running round.
BUILDING THE LLANIOG QUARRY WORKINGS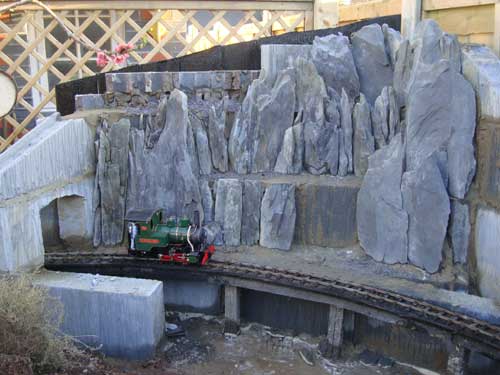 I have been planning the large slate quarry now for many months and on Saturday 22nd March I decided to make a start, not sure how I would make it or even what it would look like! First task was to carefully move all the plants from the area and dig footings for a concrete base. By Saturday afternoon I had mixed the concrete and had it all laid. Straight off to B & Q for a load of Thermalite building blocks. These are fantastic to work with, there light and easy to cut with a bolster chisel or even an old wood saw! On the Sunday morning the concrete was hard enough to start laying blocks. I needed to build a high slate bridge similar to the one at Llanberis. I also need to represent some galleries and allow for a siding too.
I have been collecting Welsh slate for years and after selecting and cutting each piece they were cemented in to place. I have allowed for planting in the scheme and buy 18.00 hrs I had got this far. I am so pleased as I can now see how it will develop. The bridge will have individual slate blocks bonded to it which will take ages but the result will be worth it. I intend to make all my own buildings from slate I have been cutting up for off cuts. The staff at Gil-Ffach -Du museum were very helpful and enthusiastic about my project. When I explained only Welsh slate would be good enough the gave me a quantity. I duly made a sensible contribution to the museum via a collection box. So my quarry is taking shape with genuine Dinorwic slate!
You can see the construction from the rear showing block work and decorative wood to finish.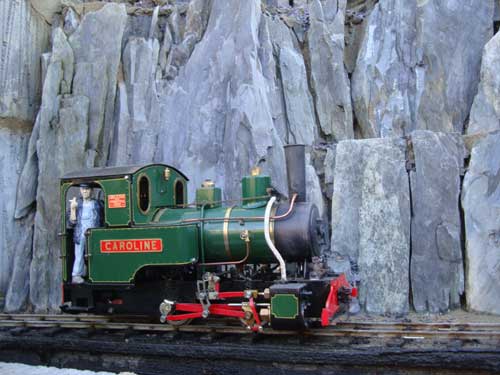 Here we see Caroline posing at the quarry face. Although a long way off finished you can see the effect already. Once the trees and plants have been introduced it will be great. A siding will be installed and a scratch built hand operated crane too. Cant wait.
After another days work I have completed the slate quarry and have plated trees and alpines, these will soon get a firm hold and spread to make every thing look so natural. There will be a small siding with a few slate wagons parked up and maybe a small quarry mans building.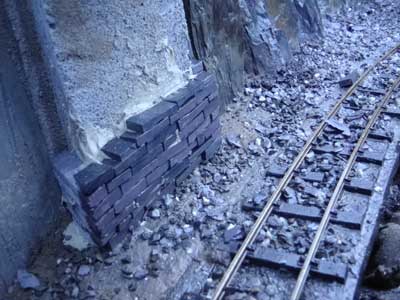 The painstaking and tedious task of cladding the bridge block work with slate. I have split and cut hundreds of slate blocks for the building works I have planned. I will require thousands of blocks but the effects are so realistic.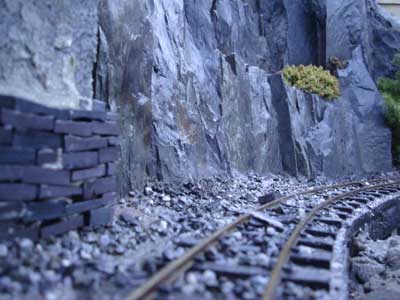 A low level view of the quarry face and the new bridge works in progress. You almost feel you could be walking along the track……..
PROGRESS AT 10TH MAY : ABERLLEFENNI STATION
When I started to build my railway I wanted to incorporate buildings, scenery, rolling stock and locomotives from my favorite narrow gauge lines. Although I had a basic plan in my head once I started to construct the line certain areas presented themselves as i idea locations for bridges, tunnels and stations. On the high level line after emerging from Aberglasyn tunnel you pass Quarry sidings on the left, once a small slate quarry but now long abandoned. The LLRC management decided to use it for storage of rollings and some time track and sleepers. Soon the line passes through a steeply sided cutting where the line opens out to open countryside.
On the famous long closed Corris railway there were some lovely little stations and buildings along the way. As my railway would only have a small number of buildings I decided I would scratch build them myself from slate which I would cut and split myself. The staff at the welsh slate museum took great interest in what I was doing. They showed me how the cut and split slate to such small dimensions. Very satisfying pastime! Now after making over several thousand blocks, tiles, paving slabs, posts and caps I feel I'm getting quite good at it. I have tried many different methods of bonding and pointing and the results look very realistic, if I say so myself!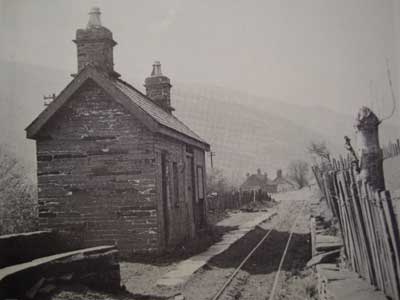 Here we see the original 1946 view of Aberllefenni station which I will try to recreate to the best of my ability. There are no plans of this building that I can find so I will have to draw my own. At the end of the building out of view is a small waiting shelter built on to the main building, There was a short run round loop with an ash pit and a signal post with two arms mounted at the same height, one for each direction and a small ground frame. The typical slate fencing everywhere. So enchanting.